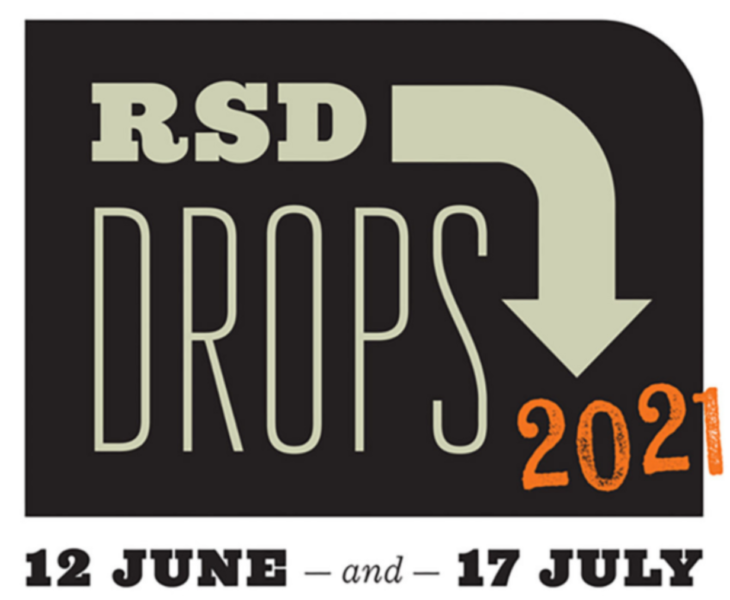 We are excited to welcome you back for RSD's second Drop of 2021, loaded with tasty new jams, stone classics, and several candidates for Song of the Summer 2021.
We've done our best to give a thumbnail description of each release, but for more information check out the full RSD list for all the details.
Depending on how things progress from here, this may be our last hurrah with this wish-list system. It's served us well, but was only ever intended as a placeholder until it was safe to have everyone back in the shop. That said, there are definitely some elements of it that we love as much as it seems many of you do, so we're working on ideas for Black Friday. If this is your first time making a wishlist, please rest assured this system has worked for thousands of music fans since the world went sideways, and we will expect it to continue in some form.
__________________________________
FIVE IMPORTANT THINGS TO KNOW
1. If you put it on your request list, and we can fill it, you are committing to take the FULL order or FORFEIT it. We won't be able to make adjustments once an order has been packed. Please wish carefully, submitting a wishlist ties up product that could be in someone else's bag, and not picking it up is a bummer all the way around.
2. As always, there is a limit of ONE COPY OF EACH RSD ITEM PER PERSON. If you submit a request for any item more than once, THEY WILL CANCEL OUT and you will receive no copies.
3.  If, after you complete a request, you'd like to add additional items, you can submit them in a second wishlist, but please only include the additional items in the second request.
4. Fulfilled wishlists are for IN-STORE PICK UP ONLY. We will not ship RSD titles.
5. Any remaining stock will go live on our website on Monday afternoon, with unclaimed wishlist items going up as quickly as we can process them.
Okay, enough talk, commence to wishlisting…
Make Your RSD DROP 2 Requests
**Wishlists must be submitted by 1pm on Wednesday, July 14th.**
After we have everyone's requests, we're going to mix them up and randomly put your list "in line"!
Go to the Fingerprints Instagram on Friday July 16th to see the mix in action.
On Record Store Day, as close to 5am as possible, we will send you a note to let you know the time window to pick up your goodies. This time we will only be outside until around 2 pm. After a quick break, we will be back by 2:30 in the book room, where all remaining pick-ups will happen. We will also let you know if there are items we couldn't fill, hopefully giving you enough notice to hit another store to fill in the gaps.
You will pay when you pick up, but remember you you have committed to take as much of your order as we we were able to fill. We'll be taking credit cards, PayPal, Venmo, and cash.
__________________________________
We have done our best to make this as easy and user-friendly as possible, while working within RSD's rules, and being very serious about minimizing the risks & uncomfortability that crowded rooms still present. We want to make sure RSD is great for everyone by distributing these audio goodies in a manner that's as fair as possible.
If you're looking for a socially-distanced dig, we will be open for in-person shopping at 10am for a big (non-RSD) sale until 8pm.
We will once again be working with local partners via offers and coupons in your RSD bag and encourage you to continue supporting those that make Long Beach great.
We look forward to seeing all of your wishes, and to seeing you on the second Record Store Day of 2021.