Hey All, unfortunately with all the good advice pointing toward social distancing, we're going to have to postpone this event. We're holding tight for things to settle down before we try to get a new date on the books.
We have plenty of copies of the CD and LP, and after we take care of the folks who've already pre-ordered a copy, we will be offering them free with purchase of Death in Venice Beach, on either format. Sorry for the inconvenience.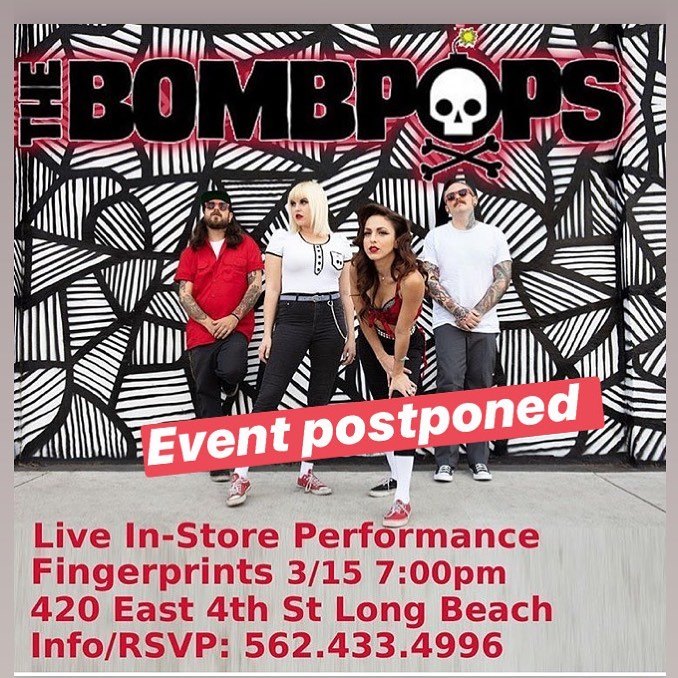 Where The Bombpops had a Fear of Missing Out on their 2017 debut, their highly anticipated follow up shows what happens when you're too involved—booze, bad situations, and behavior that's unsustainable at best and destructive at worst. This is Death in Venice Beach, the comedown after the high, when clarity pierces the morning-after haze.
What draws The Bombpops hasn't changed: highly melodic punk with big guitars, vocal harmonies, and the SoCal sound that inspired Razavi, co-founder and singer-guitarist Poli van Dam, bassist Neil Wayne, and drummer Josh Lewis. But the more light-hearted skate punk of Fear of Missing Out has a serrated edge on Death in Venice Beach, as Razavi and van Dam explore darker themes—even though the songs are catchier than ever.
"I want people to feel this dark, uneasy feeling," says van Dam, who had plenty of her own in the three years since FOMO.
The personal mixes with the metaphysical throughout the album, and as much as their personal lives shaped Death in Venice Beach, the band's hometown of Los Angeles—and its art—is perhaps their biggest muse. Razavi devoured all manner of Angeleno culture while writing the album, from books like John Fante's Ask the Dust to films like True Romance, Mulholland Drive, and Natural Born Killers, all with lines which appear in "Blood Pact."
"Death in Venice Beach is a love letter to Los Angeles, but it's a
love letter to the dark side of Los Angeles," Razavi says.
Fat Wreck Chords will release Death in Venice Beach on March 13th, and The Bombpops will be stopping in on Sunday, March 15th at 7:00pm. The guest list is open now with Pre-order of Death In Venice Beach on CD or LP. Pre-orders will include a free poster and t-shirt while supplies last. If space allows when we're a bit closer, we'll open some spots with free RSVP.
Pre-order in person at the shop or by calling 562.433-4996