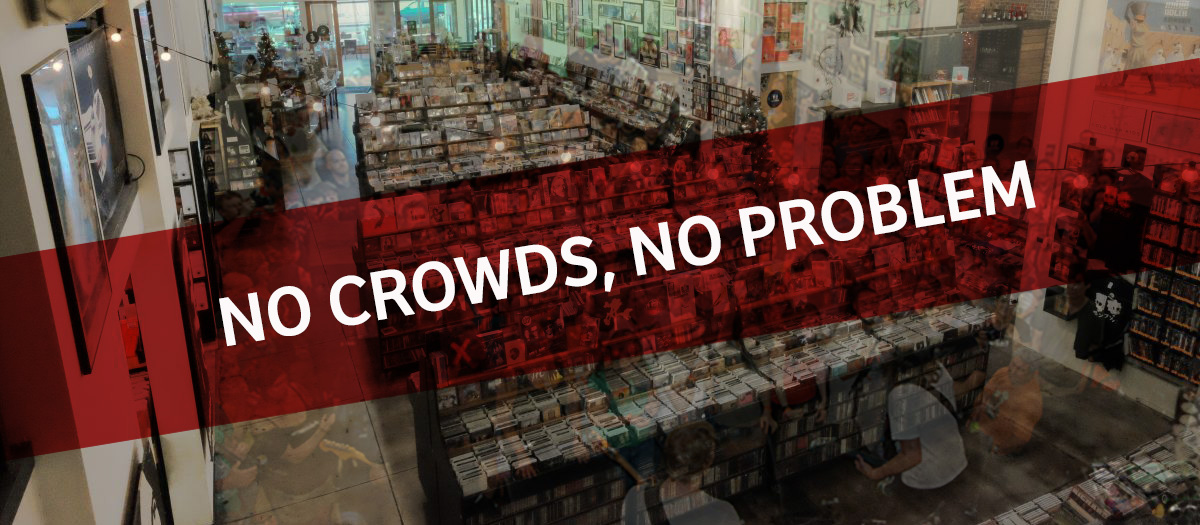 RSD 2020 AT FINGERPRINTS
Many of you've been asking about Record Store Day at Fingerprints, and we've been going back and forth coming up with ideas, picking them apart, and then starting over again. This many years into RSD, it was daunting to consider reworking it, but we wanted to get the safety part right and keep our focus on music lovers in and around Long Beach, so this is what we've come up with:
RSD 2020 is being split into three separate days. The first is Saturday, August 29th.
If you click the appropriate link below, you can see what's scheduled for each date:
RSD Drop 1 – August 29th
RSD Drop 2 – September 26th
RSD Drop 3 – October 24th
In the spirit of keeping our staff and all of you safe and healthy, we've created a webpage with a list of everything we've ordered, and we're asking you to head over there to build your wish list.
Make Your RSD Drops Requests For August 29
Requests must be submitted by Midnight on Wednesday, August 26th.**
**The clock has ticked its last tick on August 26th and entry for the "big mix" has closed. We'll be posting a video later today (Thursday, 8/27) so if you'd like to see us mix up the wish lists, check our instagram after noon today. For the last few of you waiting for confirmation emails, they're coming. Google has been challenging, and we've had to send them all manually, and honestly, we're tired and are calling it a day. (Slow clap for Ella, who's been working on this all day today). We'll send the last few over in the morning. Rest easy, we've checked dozens of wishes and, auto-confirmations aside, this thing has been pretty close to flawless. All wish lists have been time-stamped, and while you're still welcome to drop a wish, all lists received after 12:01am (8/27/20) will be looked at after those that made it before the deadline. Happily, we ordered lots of stuff, so as long as you late-birds aren't looking for Tyler, Billie, or Charli, you've still got a pretty good shot at picking up some killer records. Now we work while you wait. Hang in there, we know it's gonna be a long couple days, but we can't unveil who's gotten what until the RSD bell rings. Please be patient while we slowly come to grips with how big of a bite we took with this crazy plan.
We now return you to our regularly scheduled message…
After we have everyone's requests, we're going to mix them up and put your list "in line"!
Go to the Fingerprints Instagram on Thursday August 27th to see the magic in action.
Then, in the nick of time, we'll magically change your requests into RSD orders and send you a note to let you know the time window to pick up your goodies and if there are items we couldn't fill. You pay when you pick up, but remember you must take your full order. We'll be taking credit cards, PayPal, Venmo, and if needed, cash.
We're doing it this way to allow everyone to virtually line-up and hopefully give you enough notice to hit another store for any items we weren't able to fill.
FIVE IMPORTANT THINGS TO KNOW
1. If you put it on your request list, and we can fill it, you are committing to take the FULL order or FORFEIT it. We won't be able to make adjustments once a request has turned into an order.
2. As always, there is a limit of ONE COPY OF EACH ITEM PER PERSON.
3. If you submit a request for any item more than once, THEY WILL CANCEL OUT and you will receive no copies. If, after you complete a request, you'd like to add additional items, you can submit them in a second request, but please only include the additional items in the second request.
4. There will be NO RSD PRODUCT AVAILABLE TO SHOP IN THE STORE. Any remaining stock will go live on our website on Sunday August 30th, and any unclaimed or forfeited orders will be posted on Monday, August 31st.
5. Requested items are IN-STORE PICK UP ONLY. If you're out of the area, please check the site on Sunday and Monday for updated stock drops there, as mentioned above.
__________________________________
Sorry. We know we got a little draconian there at the end, but we're working within RSD's rules, and VERY serious about minimizing everyone's exposure and risks. We want to make sure RSD is great for everyone by distributing these audio goodies in a manner that's as fair as possible.
If you're looking to spend your RSD with a in-person shopping experience, we will open at 11am for our big (non-RSD) sale both Saturday and Sunday. Over the next couple of days we will open a reservation list to keep in store capacity at safe levels throughout the day. Again, please note there will not be any RSD product available to shop in store on Saturday or Sunday, they will be only be available for pickup.
Okay, thank you again for your patience while we find our way once again. We look forward to seeing all your requests, and to seeing you on Record Store Day.
Please keep in mind that we know this will be not perfect, and expect we'll learn from this first one and adjust for the next.